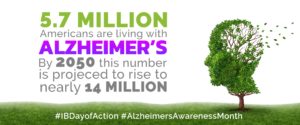 McCallister Law Group is conducting a donation drive to help provide support and assistance to Three Crowns Park as part of a nationwide community outreach event — known as the Injury Board Day of Action.  "As a law firm and as a member of the community, we have known many people that are impacted by Alzheimer's disease.  We want to do all that we can to help increase awareness about this terrible disease and help give back to those in our community, especially those living with Alzheimer's disease and dementia," says Marc E. McCallister.
From November 1, 2018 to November 30, 2018, we will be collecting donations at our office, located at 120 N. LaSalle Street, Ste. 2800, Chicago, IL 60602. We will deliver donations to Three Crowns Park, 2323 McDaniel Avenue, Evanston, IL 60201 on Friday, November 30, 2018. "We are truly honored to be a part of this nationwide day of action to help support and build awareness about this life-altering disease."  The IB Day of Action is a nationwide, collaborative effort to bring together more than 100 plaintiffs' lawyer firms from across the U.S. — all working for the same cause on the same day.  "We are passionate about helping Injury Board members give back to their communities; it's part of the DNA of our organization," says Tom Young, attorney-at-law and co-founder of The Injury Board. "We are extremely proud to bring our members together for this day of action. To make even the smallest difference is better than making no difference at all."
If you would like to join us, we will be collecting donations until November 30, 2018. Some of the needed items include adult diapers, wet wipes, house plants, board games, playing cards, and arts and craft supplies. All donations can be dropped off at 120 N. LaSalle Street, Ste. 2800, Chicago, IL 60602 between 9:00 a.m. and 4:30 p.m.
For more information on the event, please contact Marc E. McCallister at mem@mccallisterlawgroup.com or 312-345-0611. You can also visit www.mccallisterlawgroup.com.
#IBDayofAction, #Alzheimers, #ENDALZ