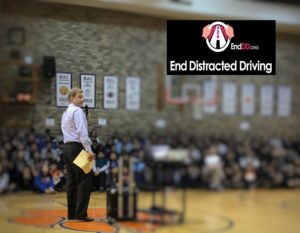 Distracted driving is a epidemic that has resulted in countless lives lost and injuries needlessly suffered.  To raise awareness of the perils of distracted driving and in order to educate the younger generation of drivers, McCallister Law Group has partnered with EndDD (www.enddd.org).  McCallister law group partner Marc E. McCallister and associate attorney Judson M. Graham presented to 760 students at Pritzker College Prep in Chicago on October 10, 2018.
According to the National Highway Traffic Safety Administration from, in 2015, there were 3,477 people killed and an estimated additional 391,000 injured in motor vehicle crashes involving distracted drivers; 10% fatal crashes, 15% of injury crashes, and 14% of all police-reported traffic crashes were reported as distraction-affected; 9% of all drivers 15 to 19 years old involved in fatal crashes were distracted at the time of the crashes. NHTSA Traffic Safety Facts, Distracted Driving 2015.
EndDD.org is is a project of the Casey Feldman Memorial Foundation, which was founded in 2009 by Casey's parents, Joel Feldman and Dianne Anderson. Twenty-one year- old Casey Feldman was struck and killed by a distracted driver in July, 2009 in Ocean City, NJ. She was crossing the street in a crosswalk during daylight hours at an intersection governed by 4-way stop signs. She was ¾ of the way across the street, yet the driver claimed that he never saw her. He was distracted and was looking away from the road and reaching for an object.
Please take a moment to read up on the dangers of distracted driving and about simple solutions that everyone can take to ensure that tragedies are avoided on the EndDD website at www.enddd.org.